CCAFT Climate Survey Regarding CCISD 
more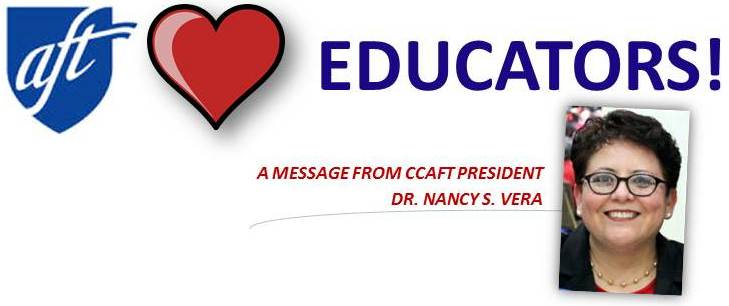 Dear Colleagues:
Congratulations! The Corpus Christi American Federation of Teachers (CCAFT) is elated to welcome you as our colleague for 2015 -2016 school year!
CCAFT are professionals like you who care about our students and about making a positive difference in their lives. 
more
CCISD Leadership at Work--Teacher Evaluations
Sould teacher evaluatio9ns be based on high-stakes testing? Two superintendents respond differently. Click here to see how our Superintendent Roland Hernandez sees it differently from Superintendent Mark Henry at Cypress-Fairbanks.
One of our retirees who needed part-time work, found this job notice for Del Mar College. She says it is a great job.
The attached document gives you the Web address and information about the job teaching GED classes.
General Membership Meeting
5-7 PM
at the CCAFT Office, 4455 SPID #48
Election of delegates to the Texas AFT State Convention, June 12-14
CCISD Update
Legislative Update
Refreshments will be served
Major AFT Survey on How Your Workplace Environment Affects Your Life
Please download the "CCAFT Action" about an AFT survey on how the conditions at work affect your life. The survey will be open until May 1. Please take the time to help AFT make the case for a major study sharing your own experiences.  All of the AFT members around the country are taking this same survey.
Pages