CCAFT Climate Survey Regarding CCISD 
more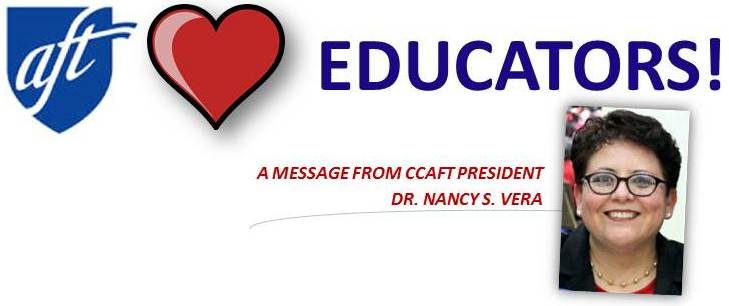 Dear Colleagues:
Congratulations! The Corpus Christi American Federation of Teachers (CCAFT) is elated to welcome you as our colleague for 2015 -2016 school year!
CCAFT are professionals like you who care about our students and about making a positive difference in their lives. 
more
CCISD Leadership at Work--Teacher Evaluations
Sould teacher evaluatio9ns be based on high-stakes testing? Two superintendents respond differently. Click here to see how our Superintendent Roland Hernandez sees it differently from Superintendent Mark Henry at Cypress-Fairbanks.
CCAFT UNION VOICE -- May 14, 2015
Click here to read the May 14, 2015, edition of the Union Voice from President Ray McMurrey. The contents are as follows:
CCISD School Board moves to evaluate teachers based on high-stakes testing
CCAFT questioning CCISD about changing walk-through forms during the school year
Administration "leak" informs CCAFT of unethical use of TINAs against veteran teachers
CCAFT "Teacher Leader" presentations this Saturday, May 16, at Del Mar College
CCISD employees deserve significant pay raise
Texas AFT monitoring Texas legislative session
The district can't mandate professional development during the summer
CCAFT Teacher Leader Presentations
You are cordially invited to attend a special day of Action Research presentations conducted by select CCAFT grant participants. CCAFT is taking the lead locally and nationally tackling the important issues facing public education. Innovation, reform and proven academic methods are best derived by real teachers who teach every day. CCAFT and the Union are constantly striving for solution-driven outcomes regarding what is best for public education. Join us at Del Mar College on Saturday, May 16, 2015, Coles Building, Room 227.
Click here to see details of the presentations.
One of our retirees who needed part-time work, found this job notice for Del Mar College. She says it is a great job.
The attached document gives you the Web address and information about the job teaching GED classes.
Pages